Pee-pee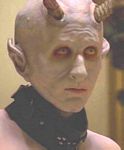 Pee-pee was the shy and (apparently) inoffensive demon-slave owned by evil [Archduke Sebassis].
He appeared for the first time on Angel in the episode Life of the Party, when Angel and Lorne go to Sebassis' mansion to beg him to attended the Halloween party at [Wolfram & Hart].
Archduke Sebassis used to drink Pee-pee's (blue) blood, which the slave always poured (from his wrist) in a glass.
The demon slave was nicknamed Pee-pee because, at the party, he touched decorative plants (where Gunn had been peeing), smelled his hands, and said "pee-pee!"
Pee-pee always was on a leash. After the party thrown by the evil law firm, it seems Sebassis forgot his slave at the building, because Pee-pee was found there days later (You're Welcome).
Angel killed Sebassis by poisoning Pee-pee, who also died (Not Fade Away).



PORTUGUÊS

Pee-pee era o tímido e (aparentemente) inofensivo demônio-escravo do malvado [Arquiduque Sebassis].
Ele apareceu pela primeira vez em Angel no episódio Life of the Party, quando Angel e Lorne foram à mansão de Sebassis implorar que o Arquiduque comparecesse à festa de Halloween organizada pela [Wolfram & Hart].
Arquiduque Sebassis costumava beber o sangue (azul) de Pee-pee, que o escravo derramava direto de seu pulso em uma taça.
O escravo-demônio foi apelidado de Pee-pee porque, durante a festa na Wolfram & Hart, ele pegou nas plantas ornamentais em que Gunn havia urinado, cheirou seus dedos e disse "pee-pee! (xixi!)"
Pee-pee estava sempre de coleira. Após a festa, parece que Sebassis esqueceu seu escravo no prédio da firma maligna de advocacia, pois Pee-pee foi encontrado lá dias depois (You're Welcome).
Angel matou Sebassis envenenando Pee-pee, que também morreu (
Not Fade Away
).

---
Biography/Filmography
See [IMDB]

Biografia
Ryan Alvarez nasceu em Portland, Oregon (EUA) e atua desde criança; sua primeira peça foi
O Mágico de Oz
. Além do teatro, Ryan também canta (quando mais jovem, ele participava de corais em sua cidade natal). Ele cursou a University of Southern California.
*Screen caps provided by [Screencappiness]

---
HOME | DOYLE | LORNE | CLEM | MERL | HALLIE | PEE-PEE | LINKS