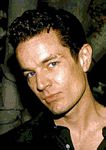 James Wesley Marsters, son of James William Marsters (a Minister) and Margaret Lynn Marsters (a social worker who almost became a nun), was born in Greenville, California, on August 20, 1962, and grew up in Modesto, California. He has dark brown and curly hair, is left-handed, has blue eyes, and is 5" 10' tall. He has a younger brother (Paul) and an older sister (Susan).
Dreaming about becoming an actor since he played in [Winnie the Pooh]'s Eeyore in fourth grade, James joined the theater group at his high school, Grace M. Davis High, acting in many plays, including musicals.
After graduation, James attended the [Pacific Conservatory of the Performing Arts - Allan Hancock College], in Santa Maria, CA, and later, the prestigious [The Juilliard School], in New York, from where he was expelled after 2 years:
They kicked my butt out of Juilliard; they didn't like me! All the British people hated me.
They have a very technical way of working at Juilliard. They say they want to strip out your instincts, and then build the actor back up, and I think there is something flawed in that. I have always felt that you should just be yourself, and not 'act.' It's much more brave to just reveal yourself. One of the teachers there did say something which has always stuck with me though; 'Acting is being private in public.' It sounds very simple, but is probably something which would take a lifetime to catch.
We were doing this play called the "Discovery Play", and there was this wonderful Broadway actress who was directing it, but she wasn't directing us at all! Being that it was the first play of the first year, and that its name was such as it was, I thought they wanted to "discover" what we could do if they just let us go; if we were going to be able to pull the story together, how much help we would need... About a week before opening it seemed to me that everyone was just jerking off, and being very indulgent, and I finally stood up and ragged us all out collectively, saying, "People are going to come to watch this! They are going to give us three hours of their lives! We have to care whether we are boring or not!" Well, apparently the director didn't like this at all, and it was just downhill from there on out. (Horror Online 10/1999)
No seriously, at Juilliard they told me I was no actor. I was too intelligent to be an actor, and I would never make it, and I should quit before I got bitter. At which point I really almost threw myself off Juilliard's roof. But ultimately I told them I had been quite successful before I came to college. I had done professional work before I came to college. I seemed to remember the audience responded very well to me. And I wanted to go back out in the world of theater and find out if they were right or not. What I found out immediately was that they were completely wrong. No, acting has been my lifeboat, all my life, through a lot of crap. (GenCon 2001)
In 1987, James and girlfriend Liane Davidson* made the move to Chicago, where they joined in the city's noted theater community, working in productions at the Goodman Theater and the Balliwick Repertory, later co-founding (with Greg Musick) the Genesis Theater Company. Around that time, James and Liane got married.

*Liane Davidson is a native of Modesto. She attended Davis High School and went on to study professional theatre in New York, London, and St. Louis. Davidson founded the Genesis Theatre in Chicago and the New Mercury Theatre in Seattle. During her tenure at New Mercury, it was one of most successful intimate theatres in Seattle, both artistically and financially. New Mercury was widely recognized for serving a diverse community with a variety of community focused programming.

In 1990, the couple left Chicago for Seattle, where they founded (with Musick) the New Mercury Theatre (named after Orson Well's company).
In 1992, James got his first acting job on TV — on Northern Exposure, a show that was shot near Seattle.
In 1996, James — tired of being poor, almost having a break down and with a new-born son (Sullivan) — decided to return to California, and try a career on television. He went first to Los Angeles, while Liane was busy on tour, directing The Right to Dream. Plans didn't go as planned, however, and the couple got divorced in 1997.
Soon after, James got a new girlfriend (Liz Stauber) and the role that would make him an international celebrity: [Spike], on [Buffy, the Vampire Slayer], and later, on Angel.

After Angel ended, James put Spike to rest; he shaved his bleached blond hair on April 27, 2004 (live on TV for charity — $25,000.00 were raised for the [Elizabeth Glazer Pediatric AIDS Foundation] — and was ready to face new acting challenges, as well as continuing to play his music.

In 2004, James started dating Patricia Jasmin Rahman, a German girl he met during the GoTR European tour. He announced his engagement to her in May, 2010; he proposed in [Trier], Germany. They got married on January 14, 2011, in Los Angeles. [Jasmin Marsters] (actress, singer-songwriter and artist) and James live in Los Angeles. Nowadays, his son, [Sullivan], is a member of [Ghost of the Robot].


---
JAMES' FAVORITES
James' favorites authors are Russian Anton Chekhov, South-African Athol Fugard, Canadian George Walker and English Steven Berkoff.
His favorite book is Extraordinary Popular Delusions and the Madness of Crowds, by Charles Mackay (written in the 18th Century); more recently, he has been enjoying The Catcher in the Rye, Stupid White Men ...and Other Sorry Excuses for the State of the Nation!, The Best Democracy Money Can Buy, and Master Harold... and the Boys. The book he liked best when he was a child was Harold and the Purple Crayon, about a boy who paints the world as he wants it o be, not as it really is.
The actors he likes are Ralph Fiennes, Lawrence Fishbourne, Michael Cain, Ben Kingsley, Gene Hackman, Robert de Niro, Meryl Streep (he LOVES Meryl), Natalie Portman, Cate Blanchett, Christina Ricci, Toby Maguire, Mel Gibson (a better Hamlet then Kenneth Branagh, according to him) and Edmund Kean (a British 18th century stage actor). If he were a vampire, he would sire Angelina Jolie. James also has an immense admiration for Michael Winters (from Gilmore Girls?), who he met while reading for a part in the play Cider House Rules, in Seattle:
Michael Winters is the best actor I've ever seen. I used to watch him on field trips from good old Davis High to ACT — [American Conservatory Theater] — plays in San Francisco. I could work my whole life and not be as good an actor as Michael is and he was starving. He suggested I try Hollywood if I didn't want to starve, too. I did and it worked. (The Modesto Bee - 05/14/2000)
His favorite movie is Apocalypse Now (Francis Ford Coppola), and he also likes Martin Scorsese, Stanley Kubrick and Kurosawa.
In music, some of his favorites are Tom Waits, Beck, Morphine, Bob Marley, Miles Davis, Nirvana, Lauryn Hill, Marvin Gaye, Charlie Parker, Johnny Lee Hooker, blink-182, Macy Gray, Bush, Palace/The Palace Brothers, Al Green, Bob Dylan, Digable Planets, Benny Goodman, Billie Holliday, Sex Pistols (he loves My Way), Elvis Costello, Morcheeba, Roy Orbison, REM, Lou Reed, Belle & Sebastian, Catherine Wheel, The Charlatans, The Cure, Arlo Guthrie, Artie Shaw, Hank Williams, Norah Jones, Radiohead, The Smiths, Nick Drake, Roy Orbison, The Clash, Ramones, Beethoven, jazz and blues.
James enjoys watching football and news, loves to sleep and play video games:
Gran Turismo, a hyper-realistic racing game, Wu Tang: Shaolin Style, and Die Hard Trilogy for good violence. And I'm embarrassed to say I'm into Star Wars Jedi power battles, in which you get to whack things with your light saber!
His favorite food is a medium rare steak, and he likes to drink Red Bull.
James used to smoke (he has been on nicotine patches for years).

JAMES' TALENTS
Before the days of fame, to pay the bills and put himself through Juilliard, James waited a lot of tables, managed a restaurant (into the ground, according to him), pushed a juice cart in the hospital and was a telemarketer for Philip Morris.
Besides acting, Marsters sings, plays the guitar and composes songs — he is in a band called Ghost of the Robot — and very much likes writing (plays, for instance). He co-wrote with Christopher Golden and Ryan Sook the comic book [Spike & Dru: Paint the Town Red], in 2001.
He also enjoys painting:
I do some painting. I don't think I'm very good! I like to paint because it forces a person to sit down and notice the world. How light plays on things. You end up noticing the beautiful things in life. You end up noticing the reflection of light on water more. The quality of light of the day. Whether it's a sharp, harsh, crisp light or whether it's diffuse light. And all of that. That's the reason I paint. I don't really show my paintings, 'cause I'm not really, really all that good. I'll sing a song for y'all. But paintings... Ah... We'll wait on that. I do that more for myself than think it's worth anyone's time to look at it. (GenCon 2001)

JAMES' YOUTH
About growing up in Modesto, he says it was great:
It was wide-open, and was relatively safe. You could ride your bike outside of town, and play in the orchards, swim in the canals, and play war in the ditches.
However, when he reached his teen years, James became an outcast young boy, who used to hung out with a group that really didn't want to fit, or be popular:
It (Modesto) was great up until I was about fourteen, and then I wanted to get out as soon as possible, because I wanted things it couldn't offer. I wasn't really in sync with my class-mates, as far as priorities or world views. I had a good group of friends. We liked to piss people off. We kind of formed our own group of people, centered around a rock-n-roll band, that didn't care if people liked us or not. (Horror Online - 10/1999)
I knew early on that Modesto and I weren't going to last. I was too different. I was the freak. I used to mess with people's minds. (The Modesto Bee 05/14/2000)
His scar on the left eyebrow he got after being mugged in New York, when he was returning home from work (bartending at the Hard Rock):
I was walking home. And, I had, like, 70 bucks in my boot and I had a backpack with like dirty underwear and socks and, like, a comic book in it. And at that point, I lived down by the water in Astoria-Queens, which, if anybody knows, is really a bad part of town. It looks a little like the Bronze with, like, burned-out buildings. I was, like, one block away from the burned-out buildings. This is when I... I was living with no glass in my windows. Yeah, try a New York winter with newspaper over your windows. But, yeah, so I'm walking home, and five guys come up, and one says hello with brass knuckles and says give me your money. And like an idiot, like, every time this has ever happened, I say "you *!" It's like, "Come on let's go, I'm gonna kick your ass!" and so we tussle, and then his friends jump on and I'm catching it, basically, I'm really catching it. So, I drop my bag, and I split and they go for the bag and I got away. (Creation Con - January 2003)
It was when he lived in New York that James went through his "wild years", as he told once to Kate O'Hare, from Tribute Media Services:
I have had my rough years. I'm better now, but there were years when I spent a lot more time in emergency rooms and police stations than I do now.
Do tell us...
Um, well, I was up in Harlem trying to, um, complete a business transaction, and a guy pulled a knife on me...
Was said transaction for merchandise or, er, personal services?
No, no, no, not personal services. That's the part of it I really... well, anyway, like I said, I'm better now. Guy pulled a knife on me, and I wasn't carrying anything, so he chased me out of the stairwell. As I came out of the stairwell, I saw a 2-by-4 on the ground, and I hit him full on the head when he came out the door. Actually, it's kind of a serious story, because I left him there, and I still, to this day, don't know how he did. It was in a very rough section of Upper Harlem, and I'm not sure if anybody would have helped him. See, these stories I have are not really fun fight stories. They're really stuff I'm not actually that proud of, but, anyway, yes, much better now. I'm much happier now.

JAMES' DREAMS
Being working on TV in the past few years, James misses being on-stage. However, he would go back to theater just in New York, Chicago or London, and this isn't possible right now, since he is tied to the West Coast for the next 10 years, due to family commitments.
One of his dreams is to produce and star a new big screen version of William Shakespeare's Macbeth, his favorite play/character ever; he even already has a script for it.

DOG OR CAT PERSON?
Cat person... For many years he had a cat (which he got when he lived in Bronx) — 14-year-old Zachary died of cancer in 2000 — who was a very good fighter:
And there are about 20 cats, 12 of who belong to my landlord next door, and whom my cat Zachary enjoys beating up. He gave one cat a bloody mouth. This was the other week, and I'm very proud of him This cat came from the Bronx. He was the one cat who refused to go back into the cage at the ASPCA*. He drew my blood on the first meeting, and I love him. (AOL chat - 1999)
*[AmericanSociety for the Prevention of Cruelty to Animals]

GIRLS
After the divorce, James dated actress [Liz Stauber] for almost 3 years — he met her when they were doing The Tempest at the Shakespeare Festival in Los Angeles, in 1997. He gave her his 1965 Ford Mustang, which he liked to tool around:
Actually, it's not mine, it's my girlfriend's. I bought it for her Valentine's Day last year. (Houston Chronicle - 03/05/2000)